Two additional symbols from Pope Francis' early days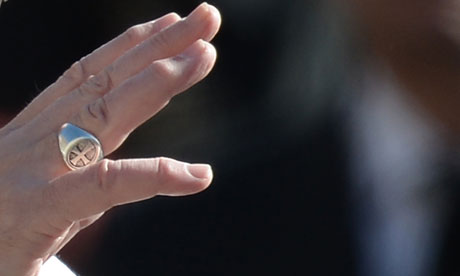 In a previous post, we reflected on the symbolic importance of Cardinal Bergoglio's choice of the name Francis. This decision was the first of a number emblematic measures that have sent messages of change to the Church and to the world. During the first days and months of his time in office, Pope Francis' behavior was full of symbolism that reinforced the story of the type of pope he would strive to become.  Today, we consider two further examples of this symbolic behavior.
The symbol of his initial contact with the people: The first time he faced his followers, Pope Francis walked out timidly, dressed in plain white, wearing a simple cross. When he came to see the crowd below his balcony, he made no grand gestures. Reporters on the scene described him as shy, unassuming, even self-effacing.
He acknowledged the crowd in Saint Peter's Square with a simple movement of his hand, and then he stood and watched.
Tradition dictates that the pope offers the city and the world a blessing. But before doing so, Francis stood in front of the people and asked them for a favor. He requested that they take a moment to pray for him, in silence.  Then, he bowed his head and shoulders to receive their prayer.
This moment was truly replete with symbolism, a brief instant of calm and simplicity, a contrast to the pompousness and grandeur to which papal followers had become accustomed. It was an unusual gesture of humility, even a role reversal. Here was the new pope asking the masses for their help, setting himself up not as a grandiose or infallible dignitary, but as a servant of the people.
The symbol of his first venture abroad: It is no accident that the pope's first major voyage abroad was to Brazil, a nation with an enormous Catholic population and a reputation for unrestrained enthusiasm. The former archbishop from neighboring Argentina came not to put on a show for the Brazilian people but to interact with them.
For Pope Francis, this journey was a symbolic gesture of openness, and the contrast with his aloof and reserved predecessor could not have been more striking. On numerous occasions in Brazil, this pope stepped outside the mainstream of historical papal behavior, meeting as an equal with Muslim migrants, or drinking coffee in a rudimentary home in Rio's Varginha favela. Such acts represent more than simply a break from the past. They are rich in symbolism, moving away from any form of pretentiousness and arrogance, toward humility and true servant leadership.
The trip underlined the story and image that Pope Francis projects, that of a "barefoot pope" who has lived in hostels, has always cared for the poor, and who has ventured out to meet the most disadvantaged of this world in their home environment. As he reached out to the people of Brazil, his authenticity and sheer likability ensured respectful attention from everyone, even those who may disagree with him philosophically.
Predictably, the papal visit to Brazil was a resounding success. Such was the groundswell of goodwill and enthusiasm around Pope Francis' visit that La Nación, one of the two major daily newspapers in Buenos Aires, commented on August 4 that there could be no turning back from the new pontiff's program of popular reform. In an editorial piece, the paper called this type of outreach a critical step politically, helping the Church's new leader to build credibility and popularity before embarking on the difficult task of reform at the Vatican.